Hi Guys, I have read the question on many forms, How to run small brushed dc motor for mini quadcopter. So with this article i am going to show you some various way to drive low voltage DC motor.
Many various type of motor driver module, IC and mosfet are available in the market to drive small brushed DC motor for mini quadcopter. But if you are looking motor driver for mini quadcopter then you need very lightweight driver.
Today I am using D10N05 SMD Mosfet Transistor to drive the motor. In this article you can see how I used this mosfet transistor.
This is a N-channel mosfet and it have three pins Gate, Drain and Source. Source pin is the input for negative voltage from the battery and drain for the negative output for the motor and gate pin is the input for PWM signal. Below is the circuit diagram to show you how i connect the mosfet with Arduino pro mini and mini quadcopter motor.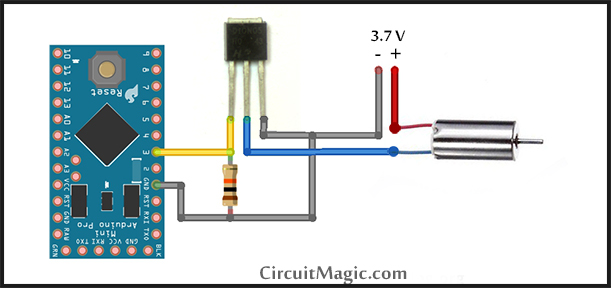 Testing Code for Arduino
I am also sharing the Arduino code to test above circuit diagram to make sure it's working fine with the PWM signal. In this code, we are writing an analog value 0 to 255 for pin number three to make fading PWM signal for a mosfet.
[sourcecode language="csharp"]
#define fadePin 3
void setup(){
pinMode(fadePin, OUTPUT);
Serial.begin(9600);
}
void loop(){
for(int i = 0; i<360; i++){
//convert 0-360 angle to radian (needed for sin function)
float rad = DEG_TO_RAD * i;
//calculate sin of angle as number between 0 and 255
int sinOut = constrain((sin(rad) * 128) + 128, 0, 255);
analogWrite(fadePin, sinOut);
Serial.println(sinOut);
delay(15);
}
}
[/sourcecode]
Here is the video tutorial